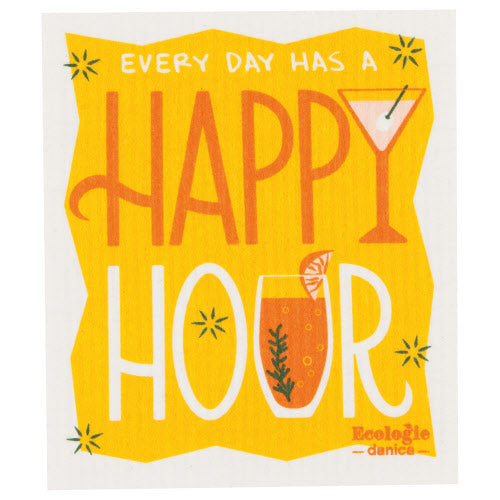 Happy Hour - Swedish Dish Cloth
---
In stock, ready to ship

Inventory on the way
Every Day Has a Happy Hour Swedish Sponge Cloth is made from cotton and plant-based cellulose fibers, these compostable cloths are an established must-have in Scandinavia. They offer a sustainable alternative to sponges, dishcloths and paper towels and become soft and pliable when wet for easy clean-up.

*Earth-friendly, reusable sponge cloth is a unique economical alternative to paper towels and sponges and is completely compostable – 8 x 6.5 inches.
*Interesting patterns can help keep chores from becoming boring.
*Crafted from a blend of 70% plant-based cellulose with 30% cotton and water-based inks, this cloth is a sustainable choice that's gentle on the environment
*Reuse each dishcloth hundreds of times. Between uses, machine wash on warm or place on top rack of dishwasher, then allow to air dry
*A collection inspired by a commitment to both sustainability and good design. Eco-friendly materials and arrays of prints and colors bring thoughtful beauty to the home.

Made in Sweden
Made from cotton and plant-based cellulose fibers, these compostable cloths are an established must-have in Scandinavia.
They offer a sustainable alternative to sponges, dishcloths and paper towels and become soft and pliable when wet for easy clean-up. Each dishcloth absorbs 15x its weight in water. 1 Swedish dishcloth is equivalent to using 17 paper rolls and 5 kitchen sponges.
Crafted from a blend of 70% plant-based cellulose with 30% cotton and water-based inks, this cloth is a sustainable choice that's gentle on the environment.
Reuse each dishcloth hundreds of times. Between uses, machine wash on warm or place on top rack of dishwasher, then allow to air dry.
A collection inspired by a commitment to both sustainability and good design. Eco-friendly materials and arrays of prints and colors bring thoughtful beauty to the home. Made in Sweden.