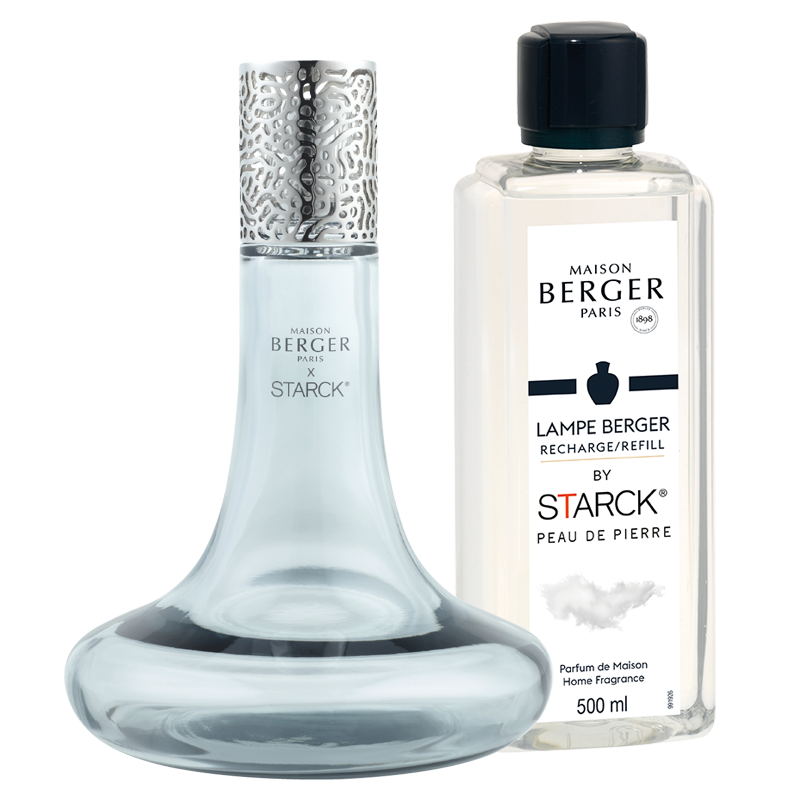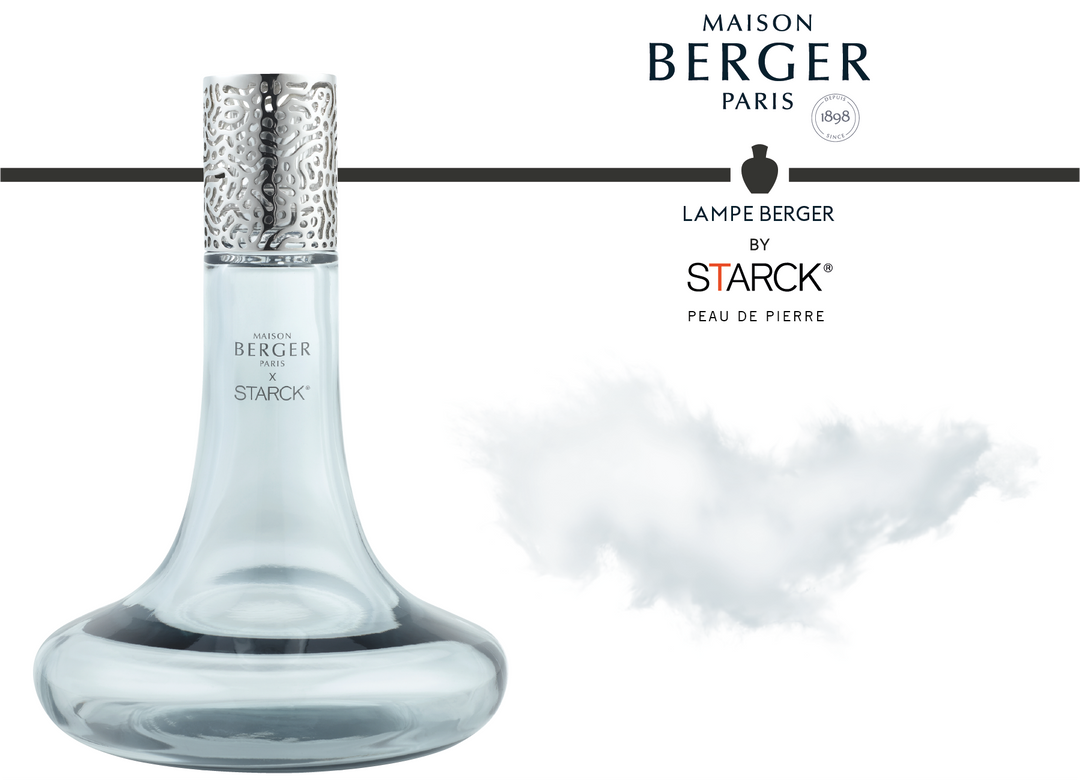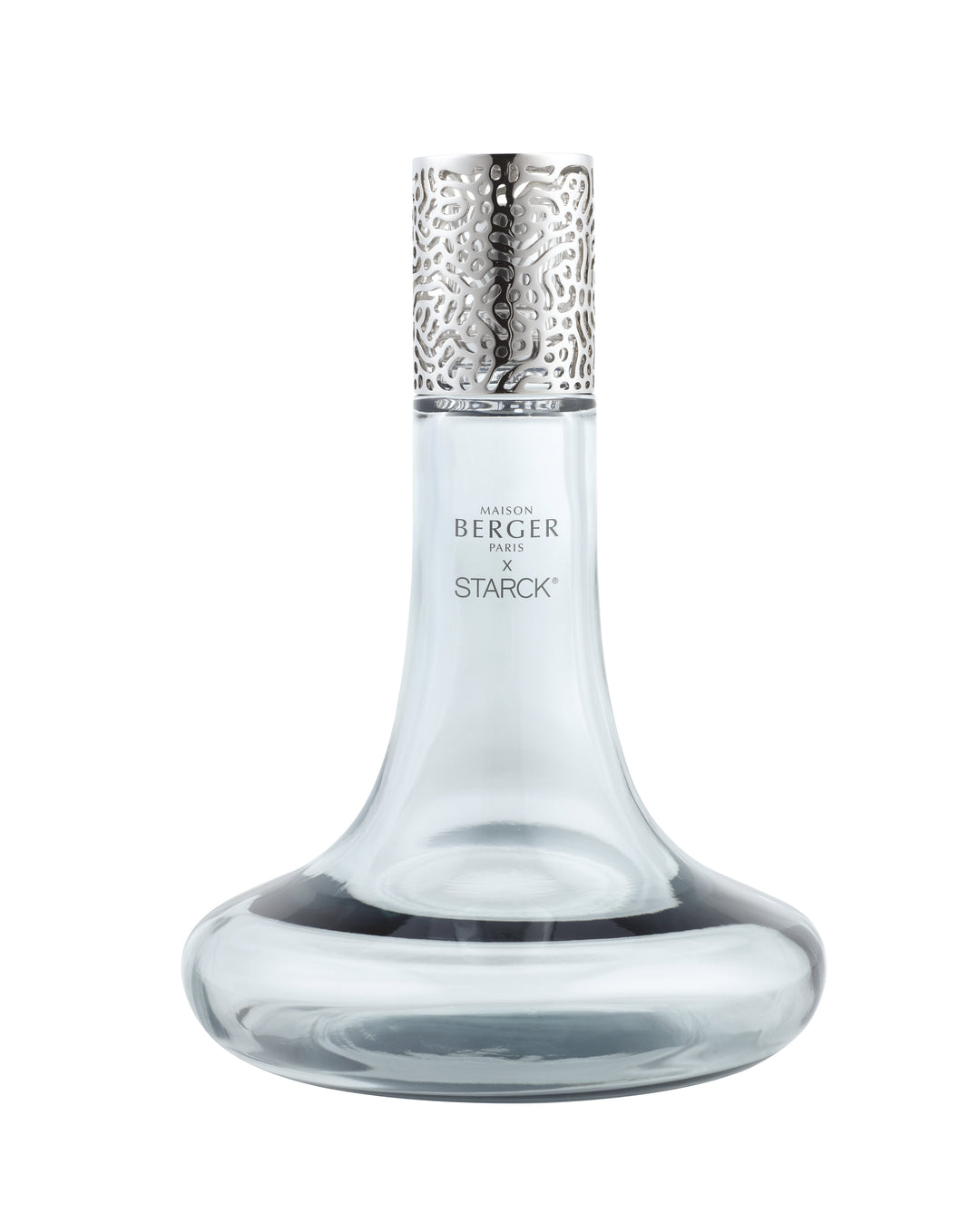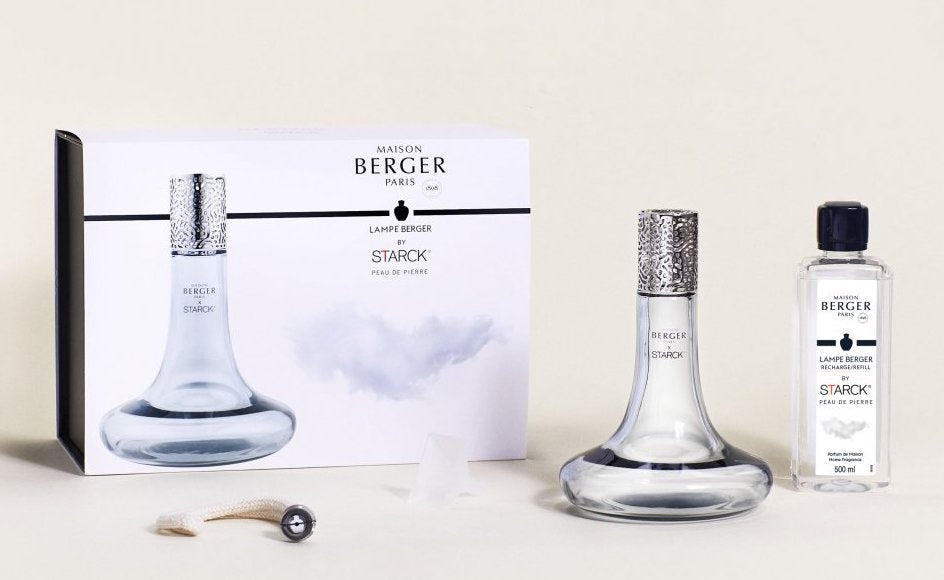 Lampe Berger - Starck Home Fragrance Lamp Gift Set - Grey (Peau de Pierre)
---
Low stock - 1 item left

Inventory on the way
Use for the effective destruction of household odours while emitting luxury scent for the home.
Refined, understated lines are highlighted by the muted grey hue of the transparent glass, offset by a silvery metal cap with an intricate pattern inspired by the microscopic world.

Peau de Pierre home fragrance: floral, spicy, and woody notes meld into an intoxicating elixir
Included: Peau de Pierre fragrance (500ml) + 1 lamp (460ml) + 1 wick-burner + 1 funnel
Lamp Dimensions: 19.5 x 15 x 15 cm (7.7 x 5.9 x 5.9 in)
Fragrance is dye free.
Use the Air Pur So Neutral Refill (SKU: 416012) to maintain your burner, to purify your space fragrance-free or to modulate the intensity of your fragrance by diluting it.
MADE IN FRANCE
ONLY Lampe Berger Catalytic Refill Fragrance Fuels are to be used in the Lampe Berger
Emits Luxurious Fragrances
Award Winning Product for 100+ years!
Carries 6 International Patents
For over a century, the Lampe Berger has been as beautiful as it is functional.  Purifying indoor air, acting as a room deodorizer, emitting luxurious quality home fragrances, all while adding an elegant or contemporary touch to every home. So useful in any home, condo, or townhouse where you want to eliminate odours; but also an impressively boxed gift of fragrance from France.
Maison Berger Lampes, also called Lampe Berger, are catalytic lamps. The patented diffusion system uses the chemical reaction of catalytic combustion to kill germs and bacteria, purifying the air and thereby destroying household odours in the process.  
Maison Berger Lampes purify the air by killing odour causing germs and bacteria. A Lampe Berger doesn't mask household odours, it removes them. Whether it's cooking odours such as fish, curry, onions, a Lampe Berger will destroy the odour causing molecules from the air. It's also great for removing pet odours, smoking odours and all other household odours! When you use a Lampe Berger with a scented fuel, it will remove the odour as well as fill your home with a beautiful fragrance too! You can also choose to use a neutral fuel which will not give off scent.
Maison Berger Lampes were invented in 1898 to purify the air in hospitals and morgues. French pharmacist, Maurice Berger patented his catalytic lamp under the name Lampe Berger. His lamps were widely used during the pandemic of the last century becoming very popular with the public. In the 1930s fragrance was added and the Lampes were redesigned by famous designers such as Lalique, Baccarat.  By the 1940's Lampe Berger became a style icon and was embraced by leading figures from the art community (Coco Chanel, Picasso, Colette and Jean Cocteau).  Today, Lampe Berger is appreciated for its sleek designs and its luxurious fragrances selling over 800,000 lamps annually in boutiques worldwide.
Maison Berger Lampes have won many awards over the years. Here are a notable few.
French Invention of the Year award, 1901
ISO 11014-1 for Product Safety and Excellence
6x Winner of Paris Commodity Award
National Scientific Research and Development Gold Award, 1938
USA FDA Approved
As Canada's largest Maison Berger boutique, Crafted Decor carries a huge selection of products, and tries to maintain ideal stock levels for customers online and instore, making Crafted Decor a destination for all things Maison Berger. Orders are shipped quickly, accurately and well packaged. Our efforts to offer exceptional customer experience has been noticed - Crafted Decor was voted 2023 diamond winner by Mississauga residents for BEST Online store, BEST Overall Service - Retail, BEST Gift Shop, and BEST Home Decor store.