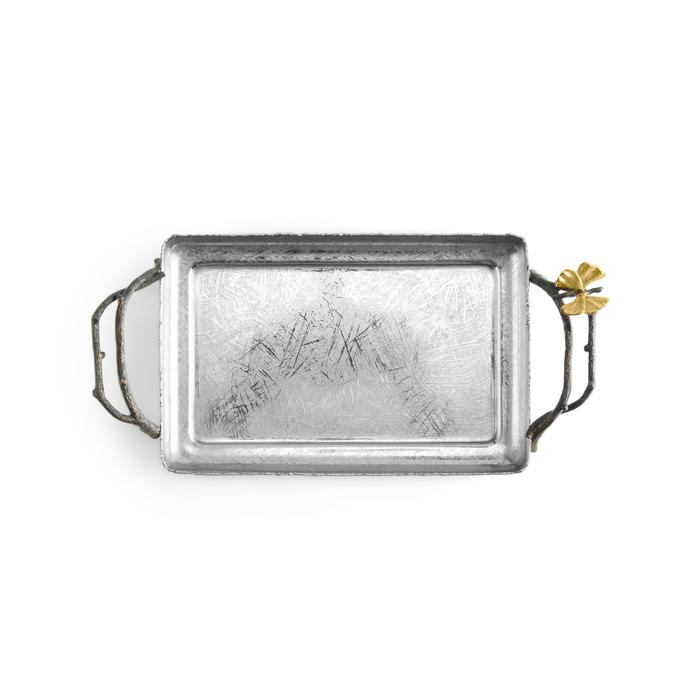 Michael Aram Butterfly Ginkgo Small Tray
---
Low stock - 2 items left

Inventory on the way
The Michael Aram Butterfly Ginkgo Small Tray is perfect for entertaining. Whether you want to serve up appetizers or arrange a beautiful centerpiece with candles and a bud vase, this tray is designed to be the perfect accessory to help you elevate the look of your home. Add a touch of elegance that will make your guests buzz with delight.
Details & Materials

12.5"L x 6.25"W x 1.5"H
Hand Textured Stainless Steel
Natural & Oxidized Brass
About the Collection
The Butterfly Ginkgo Collection celebrates the representation of flora as fauna. Michael's fascination with a particular type of ginkgo tree , the Ginkgo Biloba, or "Butterfly Ginkgo", which grows with a double leaf reminiscent of a butterfly's wings, gave rise to a fantasia image of the plant. Executed at the highest level of handcraftsmanship, each piece is rendered in solid brass with hand etched cocoon-shaped vessels. The pieces in the collection are a tour de force of the handcrafted process, capturing the poetic spirit that is so deeply indicative of Michael's work.
"Seeing this tree, it literally looked like it had been completely overtaken by butterflies... as if they would all take flight the moment you walked too close or made a noise. The idea that the leaves could evoke the beauty of butterflies was magical, like trees that can metamorphose from flora to fauna in the blink of an eye." - Michael Aram
Each item is beautifully gift boxed and comes with an artist card and care instructions.
Michael Aram is a sculptor, painter and artisan. Inspired by nature and the handmade process, he creates products of fine craftsmanship. For him, the imperfections in the handmade process perfectly mirror the imperfect beauty of nature, creating objects that, he feels, represent humanity. Michael Aram's products are functional pieces of art for the home. They are like nature spreading through interior spaces.